Thursday, June 10, 2004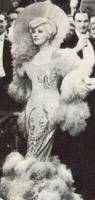 It seems everyone has a slightly different idea of what sense is all about.We like ours.Our dear Mae took on the folks over at
CommonSenseWonder.com N
.Read on ,and see who makes more SENSE to you.........
Brando
"Canada PM
ditching Reagan funeral
"The Canadian PM is
ditching Reagan funeral
. This isn't so surprising as even
Chirac
said kinder words in his letter of condolence than the Canadian PM did. We should kick them out of
NAFTA
.
Max Jacobs 03:27 PM


Oh My Dear Max

I fail to see why Paul Martin's lack of attendance reflects badly on relations between Canada and the US. It seems to me to be a prime example of American arrogance to assume that we should all drop everything to focus on Mr. Reagan's funeral. That is not to say that Mr. Reagan did not make a notable contribution to the world whether you agree with his politics or not - he was a strong President

Look to yourselves before you criticize others.

I live in Vancouver , which for the past few years, has either been first or tied on the Quality of Life Index for best places IN THE WORLD to live. Canada is not a better country than the US, but we are a country in our own right and we do not have to curry favour from the US in order to retain our position on the world stage or our sovereignty and integrity as a nation.

I am not suggesting that Canada boycott the US, I am suggesting that we would find other methods.I would personally welcome better relations with the US, but both sides of this border are going to have to stop acting like spoiled children before that will happen.

Mae


posted by brando at 1:09 PM
link
|
|
The Cast
BRANDO & JOAN
*
CONTACT JOAN



This work is licensed under a Creative Commons License.


In Our Hearts
"The Courage to Act...By Rod Napier "Dedicated to Burke O'Brien, A Hero Forever" ... please visit
BURKE O'BRIEN .ORG
BURKE TELEVISION
Mark O'Brien- Loving Father, Compassionate Friend, and Ceaseless Seeker of Justice
"I hope to not just laugh, but to laugh uncontrollably. I hope to not just cry, but to wail deeply. I hope to not just find the elusive "alone together" place within, but to hold, and be held in it. I hope my refection on the lake dissipates and I can see into the waters."
~~Mark O'Brien






Archives
June 2004
July 2004
August 2004
April 2005
The Best of Brando
The Chauffeur
Swearengen Sense
Accidents or Messages
The Recalcitrant Buffalo
Nature Speaks, I Listen
The Rapture of the Ride
Smiling Through Tears*
(*by Joan, about Brando's death)


Favorite Links
Mama Let 'Em Be Cowboys
Credits
powered by blogger
trackbacks by haloscan